The Real Wrought Iron Company is the sole world supplier of genuine wrought iron.
The Real Wrought Iron Company is as far as we know the sole world supplier of genuine wrought iron. We supply to blacksmiths throughout the world, for use in the restoration of historic ironwork and the construction of high quality architectural ironwork commissions.
We recycle and re-roll genuine wrought iron into various standard and bespoke sections on our traditional rolling mills.
Established over 30 years ago by Chris Topp, we believe we are the only supplier of this wonderful material nowadays, and the craftsmen working at our sister company Topp & Co. are experts in its use. We source our genuine wrought iron from all over the country and are always looking to buy genuine wrought iron. We hope this site acts as a useful guide for both the services we offer and also answer any queries you might have about wrought iron as a material.
Wrought iron is a different material to pure iron and steel and has vastly different properties.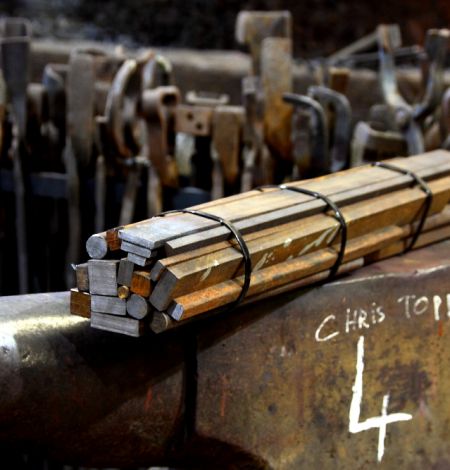 SAMPLE PACKS OF GENUINE WROUGHT IRON
To help promote the use of genuine puddled wrought iron, we are putting together 20kg sample packs and selling them at for just £50 (approx $62.US). plus shipping. This Material is unique and great to forge and fireweld so why not give it a go..